Ayaka Suites

It is a 2 Day Scrum training with Agile Leadership Coaching. You will learn the basics of Scrum and involve in exercises to bring them into practice. You'll also work on improvements for your team and learn how to apply scrum in remote or distributed teams. You'll learn the materials you need to start your assessments for the Indonesian scrum master certification.This hands-on workshop provides a way to get your teams up to speed with the techniques that enable scrum concepts to take flight. From principles to practice, let's improve your business outcomes through Agile.
Ekipa has launched its new Indonesia Scrum Master Certification Course to teach individuals and teams to implement Scrum in the organization.
ISM (Indonesia Scrum Master) course is a two days training with Certification Exam, helps you to improve your Scrum knowledge, learn all the new things about the framework, learn how to implement Scrum in your company and certified yourself as an Indonesia Scrum Master.
All in your native language, Bahasa Indonesia.
Prove Your Core Scrum Knowledge 
Join a Community Of Scrum Experts
If your organisation has begun to implement the Scrum methodology and you need to skill-up, achieving the Indonesia Scrum Master Certification will develop your base of knowledge.
ISM (Indonesia Scrum Master) Certification proves to your peers that you've put in the effort, studied Scrum and learnt to apply it within your organization.
Certifications are a fantastic way to market yourself to employers and prove to colleagues and managers that you fully understand a given field.
Become a certified Indonesia Scrum Master and you'll join a community of recognized Scrum experts committed to continuous improvement and agile methodology.
Target Audience
Entrepreneurs
Managers
Project Managers
Programmers
Remote Team Members
Outsourcing Managers
Account Managers
Indonesia Scrum Master Certification proves your competency in Indonesian industry. The syllabus is specially designed to help you in the agile transformation journey in Indonesia. 
Other top reasons to go with ISM Certification
– Lifetime Certification
– Medium of Certification
 The exam is now available in English and Bahasa. This is a good news for those talents, who would like to attend exam in Bahasa 
Day 1
Morning: Scrum Fundamentals
1. Scrum Overview
2. The Agile Manifesto
3. Scrum Versus Waterfall
4. Scrum roles, events and artifacts
5. Additional Concepts: Estimates, Velocity, Burndown Chart
The goal in the morning is to get everyone on the same level of knowledge about Scrum. We'll start the day with an interactive scrum game in which teams create a learning backlog. This backlog is prioritized by a product owner. This will be our vehicle throughout the training. We will go through all the concepts in interactive breakouts. You'll learn from both the trainer and the other participants, share what you know and work on visuals and action plans to ingrain the learning goals.
Afternoon: practice scrum
1. Lego city simulation
We will build a city of lego using the concepts we learned in the morning. Building something with lego is a neutral way to practice scrum applicable to both software development and other fields. We will split up in teams. The product owner (the trainer) has created a prioritized product backlog. During pre-planning teams can clarify requirements and we'll use planning poker and swimlanes to make estimates. The game itself consists of 3 iterations (5 minutes planning, 7 minutes sprints and 5 minutes retrospective). The end goal is a city of lego (all teams work on the same product).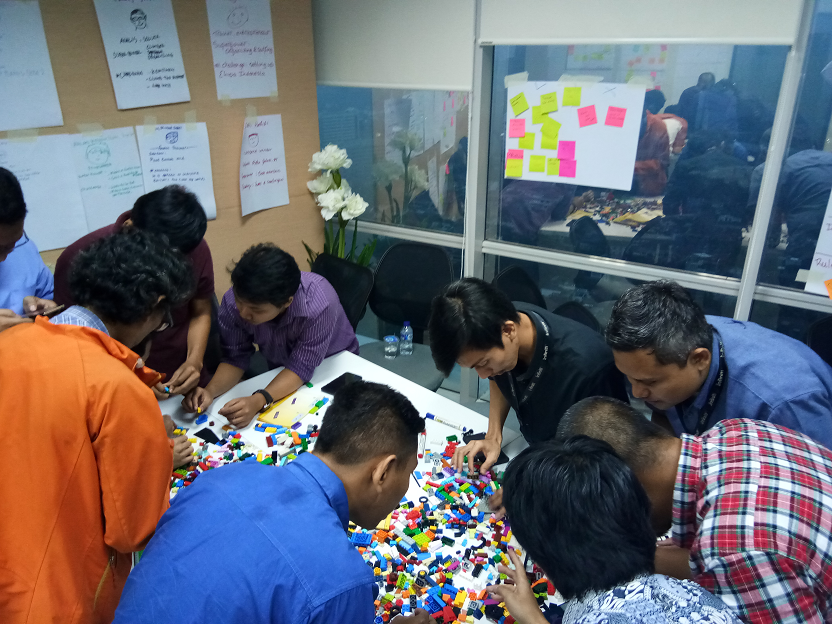 2. Retrospective day 1
We close the day with a group retrospective. People can indicate what they learned/loved/lacked/longed for, so we can make the experience even better on day 2. 
Day 2
Morning: wrap up of scrum theory
1. Scrum guide presentation
We will work in teams to create a presentation about the scrum guide. Everyone gets a printout and reads the whole guide. Then within the team you discuss what you found in the guide that you
A. can apply right away in your team
B. recognized as an improvement for your team
C. didn't know before or missed out on day 1
Each team creates a visual board and presents it to the other groups.
2. Build your own scrum
In teams, we will build an overview of the Scrum framework and flow. By cutting and pasting icons that are provided, each team will capture and summarize their views on scrum. Each group will present.
3. Agile manifesto and principles applied
In this exercise, we will study the agile manifesto and principles in groups. Each group will create an overview of how their company already works according to the principles and where they need improvement. Each team will also create an action plan and presentation.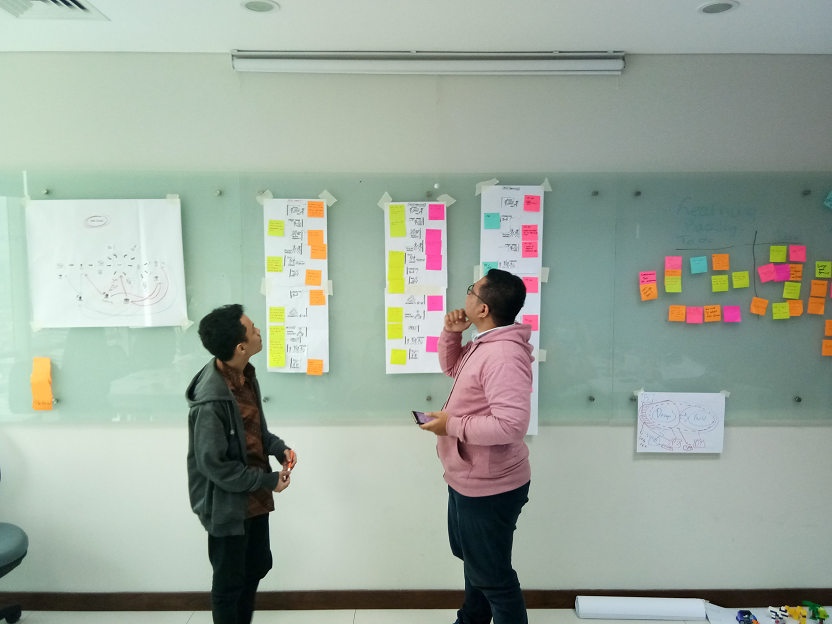 4a. Test exam
All participants will go through a test exam. Using the questions, you will deepen your knowledge, play with the materials and you also get prepared for a possible certification assessment.
4b. Case study
Those who don't want to prepare for the exam will work in groups to find case studies (online / in the room). The groups will create a presentation and share with the others.
Afternoon: applying scrum
5. Scrum applied to your (non IT) team
We gather in teams. If you came with your full team, that's the case you will work on. If the team has members from different companies, 1 real team situation will be chosen. The teams create a visual map of how scrum will be applied to a real project. Your team discusses how each of the elements is applied within the team. You work out who gets what role, what events are planned, when and attended by whom. We also create an action plan for the implementation of this scrum setup. The goal is to have a tangible plan of implementation which can be started upon returning to the office.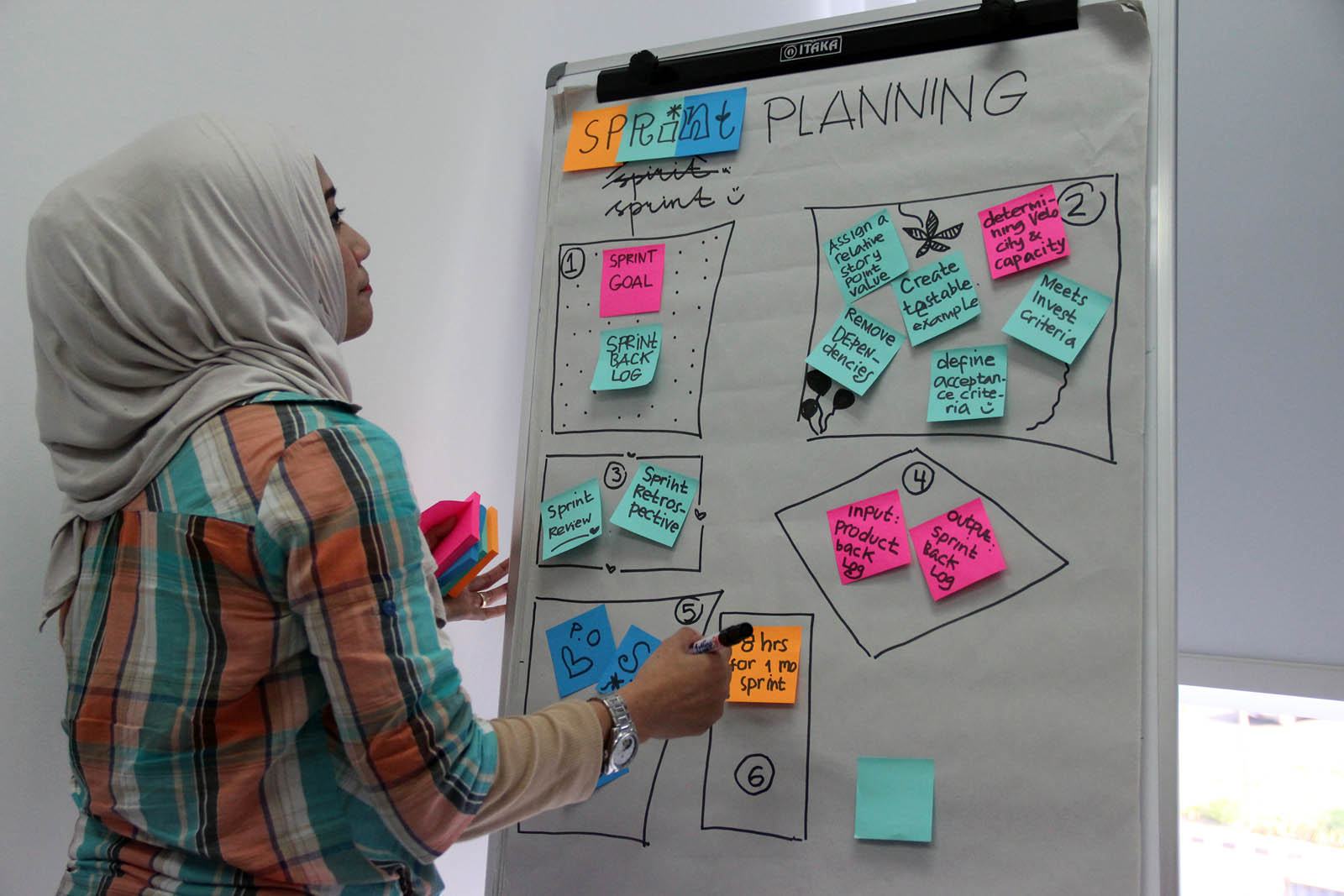 6. Learning breakout
In the last part of day 2, we break out into different teams. Each team takes some of the user stories from the learning backlog created in the morning. Teams discuss the user stories and present their conclusions to the rest of the group.
7. Retrospective
Wrap up of the training. We'll discuss any remaining issues and discuss how everyone can make actions from what they've learned.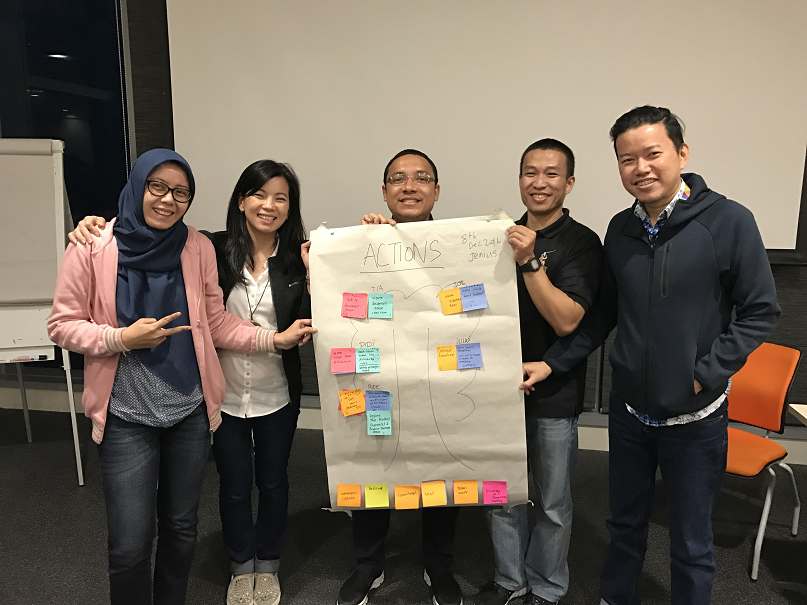 What skills are tested in the ISM certification Exam?
You are required to demonstrate your understanding of key Scrum elements, including General Scrum knowledge, Scrum roles, Scrum meetings and Scrum artifacts.
How do I renew ISM certification?
The certification is lifelong. 
Does Ekipa offer online/virtual courses?
What is the format of the ISM certification exam?